>
>
>
Schneider Haptify BALLPOINT refillable pen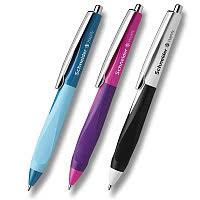 Schneider Haptify BALLPOINT refillable pen
SKU:
£8.99
4.5 8.99 £4.50
£4.50
On Sale
Unavailable
image for illustration purpose only.
price is for 1 pen only NOT all 3.
Ballpoint pen
0.7 medium BLUE INK point
choice of three barrel coloured designs
with ergonomically rubberised three-sized grip for ideal positioning in the hand. Extraordinarily easy and gliding writing. Barrel colour black/white, writing colour blue , waterproof according to ink standard ISO 12757-2. The wear-resistant stainless steel tip guarantees that the large ink supply can be fully used and does not smear. The Haptify has a strong metal clip and, thanks to the clever Plug+Play system, can use a variety of refill formats.